Towards a Cross-channel and Converging World
For over 20 years, Internet and Mobile development and the advent of Digital have generated new ways of doing business and plenty of disruptions : e- and m-commerce, challenger banks, social networks, private sales, market places, crowdfunding, sharing economy …
The payments industry has definitely entered a new era due to the combination and acceleration of several forces and trends : technologies and digital channels, regulations, competitive pressures, new entrants and models, changing customers' behaviors..,
This phenomenon is furthermore exacerbated by the increasing convergence between off-line and on-line commerce.
As such, all payment solutions have to fit with the customer experience, before, during and after the purchase and to bring value-added services (e.g. "invisible" payment; speed and convenience; rewards and benefits; geo-location; pre-ordering ; cashier less experience…).
Proliferation of Multiple Payment Means and new Entrants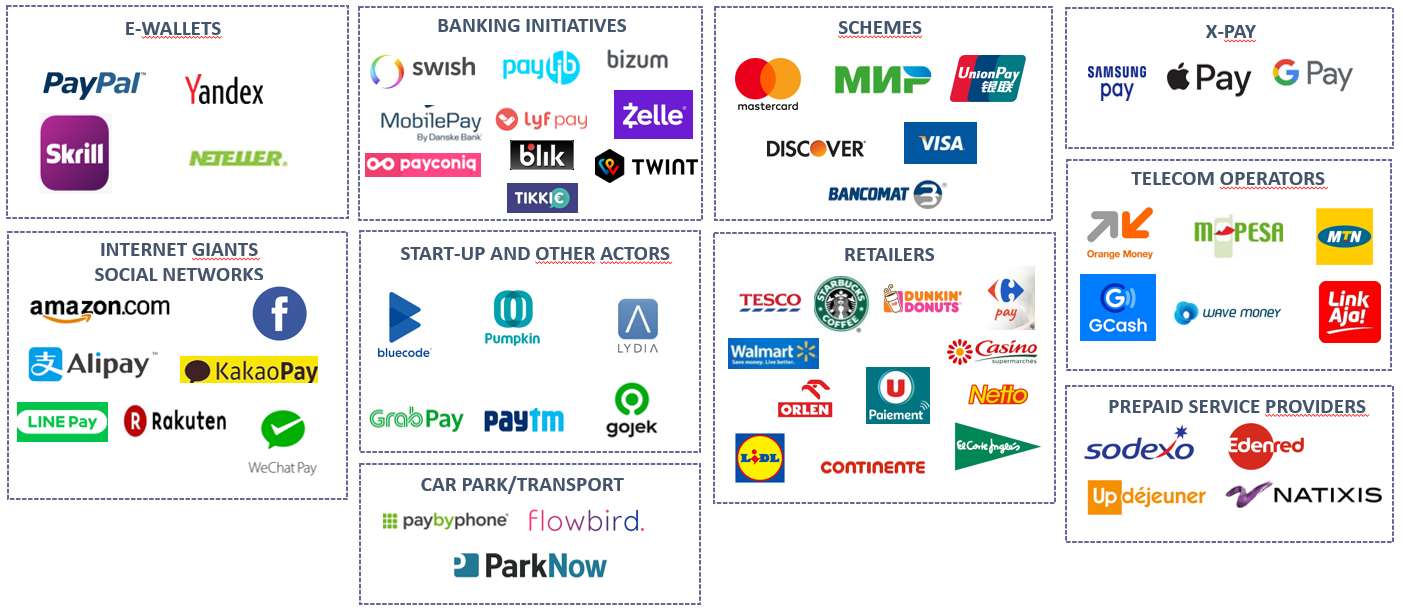 For many years now, we have been observing the birth of new payment methods, firstly on internet and mobile which are coping at best with specific requirements and contexts, e.g. speed, convenience, security, size of the screen, payment in the move…, e.g.
E-wallets: PayPal, Visa CheckOut, Paylib, Alipay, ApplePay, Amazon, Masterpass, PayU…
E-Vouchers: Ukash, Ticketsurf, Paysafecard,…
SDD and SCT: i-Deal (NL), Sofort (Germany), MyBank (Europe) + the new Instant Payment…
Telecom Carrier Billing
Online credit: Oney, Klarna…
In line with this frenzy, the number of contenders in the payments arena has steadily grown over the years alongside the usual incumbents :
GAFA (Google, Apple, Facebook, Amazon), BATX (Baidu, Alibaba, Tencent, Xiaomi)
Telecom Operators (Orange, Vodafone, Telefonica, MTN…)
Thousands of Payment Institutions (PI), Electronic Money Institutions (EMI), Accounts Information and Payment Initiation Service Providers (AISP, PISP)
And a myriad of Fintechs …
Questions and Challenges for all Stakeholders Along the Value Chain
According to their strategy, their organization, their size, their positioning and their geographic footprint, all contenders in the Acceptance, Acquiring and Issuing areas (banks, issuers, acquirers, card schemes, retailers, e-merchants, payment services providers, prepaid specialists, new entrants…) are facing hard and crucial decisions for their own future, for example :
How to combine rich customer experience, high conversion rate, regulation rules and limited fraud ?
What payment architecture will ensure performance, agility and innovation aligned with regulatory and technological changes across all channels ?
What value-added services and differentiation beyond payment shall I provide to my clients, be they consumers, merchants or businesses ?
How to succeed in centralizing all payment transactions from all channels and countries ?
How to identify and select the right partners in the various geographies ?
What are the best means to leverage the bulk of data and knowledge in order to provide more customized and relevant services, or even generate more revenues ?
Should I launch my services alone or join forces with my peers or third parties ? …
Of course, this list is far from exhaustive and is constantly evolving according to the market changes and your own priorities.